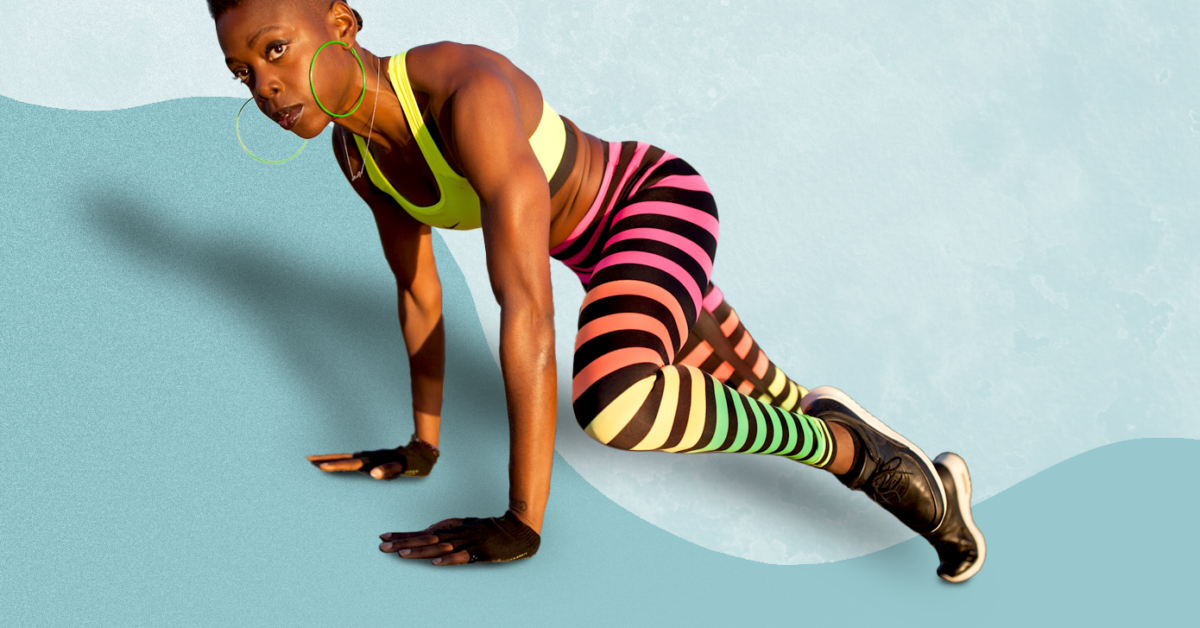 There are two comments about my body that I'll never forget.
One was from a guy I briefly dated, who told me that my soft belly wasn't "that bad." Another was from a roommate who said that for as often as I went to the gym, she'd expect more noticeable results.
Both cut right to the bone of my body insecurities, such that I still think of them more than 15 years later.
The fitness industry has long thrived on the idea that our bodies should look a certain way — prizing, for example, the tight stomach and bulging muscles it took me years to accept I'll never achieve.
Whiteness and body shapes that reinforce binary conventions of gender — like thinness for women and muscularity for men — have been held up as the ultimate goal of any routine, like a carrot so many of us will never catch.
These dominant standards exclude anyone who may not conform, and they go against the truth that everyone's body is different.
However a growing number of fitness organizations are rejecting what they call the toxic ideals often promoted by conventional gyms. Their missions aim to call in people whose bodies have been left out of mainstream fitness, including those who are Black and Brown, queer, trans, fat, disabled, or any combination of marginalized identities.
Rather than suggest people's bodies need to change, these organizations promote radical acceptance and celebrate the joy of movement.
As a queer person of color who has lived in a bigger body their whole life, Luca Page said they'd always felt uncomfortable in conventional fitness spaces.
"Even though I really love moving my body and have always been into exercise, I never really found spaces that felt safe to me and joyful to be in," Page said.
They weren't alone.
Page founded Radically Fit in 2018, partly in response to a need expressed by Oakland's queer community for a gym that welcomes bigger bodies, trans folks, and people of color.
"The people we serve are often told that they're not welcome in a lot of fitness spaces," Page said. "We have a gym in which their bodies are not only welcomed but are centered and celebrated, which immediately creates a different type of space."
Radically Fit offers a pay-what-you-can sliding scale and personal training at a discounted rate for non-white members. It also offers classes tailored to particular body types, including trans and gender-nonconforming people as well as those with bigger bodies.
Powerlifting, perhaps the most popular class, vividly illustrates the gym's mission.
"People are really often blown away at how strong they are," Page said. "Especially for marginalized folks who are consistently told that they are not strong, and that they need to shrink themselves, powerlifting has really enabled people to see their strength and walk out into the world feeling empowered."
In an industry so often fueled by shame, Radically Fit takes the opposite approach.
"Our job is to create a space where people can challenge themselves or go at their own pace, without judgment," Page said. "And to be there cheering people on."
Like many people working in corporate jobs, Ife Obi once used fitness as a release valve for stress. When she wound up with an injury in 2015 that required physical therapy, Obi began to think about how intentional movement can improve overall health and prevent many of the ailments she saw impacting the Black community around her.
"Growing up in Brooklyn, there just wasn't a real attachment to fitness and wellness in general," said Obi, who earned her Pilates and group fitness certifications and went on to launch The Fit In in 2018.
Obi opened her first studio, with a focus on strength training and mat Pilates, in the Bedford-Stuyvesant neighborhood of Brooklyn. The Fit In has since expanded to two more nearby locations that offer barre and equipment-based Pilates, plus an online shop featuring healthy snacks and supplements.
"If you want people to move more, you have to be closer" to where they are, Obi said of bringing fitness into a community she recognized was underserved.
Carving out time for exercise at a faraway studio "especially if you have a family, work, and all these other responsibilities — that tends to be a very high deterrent for a lot of people in the Black community to working out," Obi said.
The Fit In also aims to meet its community where they are in terms of their bodies and personal fitness goals. Though weight loss may be someone's primary concern, Obi aims to shift that mindset toward a more holistic approach to overall health.
"Our focus is helping you find a type of movement that you enjoy, so that you can do it consistently," Obi said.
Rather than chase the rail-thin body ideals pedaled by many mainstream brands, Obi aims to help people feel stronger and have more energy for their everyday tasks.
"If chasing your kids is something you have to do, then I want to make sure you can do that without feeling tired or sore the next day," Obi said. "If I have a community of people, particularly Black women, who have now gotten healthier and stronger, then that's all I really care about."
When Asher Freeman first came out as trans, they turned to weightlifting in the hopes of building a body that conformed to conventional standards of masculinity. But the experience gave Freeman something they treasured far more — a feeling of being at home in their body.
"So many of us have internalized incredibly harmful narratives about our bodies," said Freeman, who left a career in nonprofit organizing to start Nonnormative Body Club in 2018, through which they offer a range of body-positive fitness options.
Freeman said the work they do now draws on everything they loved about organizing and working with young people — "building community, challenging systemic oppression, and empowering individuals" — in an even more direct and impactful way.
Nonnormative Body Club offers personal training, group fitness, and support for trans wellness, including workshops that cover preparation and recovery for top surgery and chest-binding health.
"My one-on-one work with clients is about finding ways to reclaim the story of our bodies and our strength on our own terms," Freeman said.
"In my group fitness classes, I always offer multiple options for every exercise and emphasize that participants are in charge of their bodies and their workout," Freeman added. "Everything I say to do is just a suggestion."
The need for explicit inclusivity has become even clearer as Freeman has continued to welcome more people to the club.
"I can't count the number of times clients have told me that they don't feel comfortable exercising, because they don't want to be seen by others," Freeman said. "The fitness industry has made the majority of us feel like unwelcome intruders, so we need spaces that explicitly celebrate our whole selves."